We typically meet to play every 2 weeks at the Guildford Institute.

We use Meetup to organise all club events. To attend an event, please register through Meetup. This allow us to see who will be attending each night. If you are new to Meetup, there are some tips to joining meetup and the Guildford Mahjong Club here.
Note. All attendees must observe the clubs COVID protocol, which is available here.
Upcoming Events
Please remember to unregister if you are unable to attend an event.
Tips for using Meetup
If you are not familiar with Meetup, then follow these steps to RSVP for Guildford Mahjong Club events:
Sign up for Meetup
For the best experience we recommend you Install the Meetup App.


Note, you can also access Meetup using any popular browser from a PC or Laptop.
2. Once installed, launch the Meetup app and Log in (if you are already a member), or Sign up (which is completely free) to create a Meetup account.
3. Within Meetup, search from the 'Guildford Mahjong'. This will list the upcoming events.
4. Select the most recent event and press the red 'Request to join' button

5. From here you will be prompted to first join the Guildford Mahjong Club, where you will be asked to answer a couple of questions. Your request will then be sent to a club organiser for approval.
6. Once approved, you will be sent a welcome email.
Join an event
Open the Meetup app
2. Search from the 'Guildford Mahjong', and from the list of upcoming events select the one you would like to attend.
3. Press the red 'Request to join' button, as show below.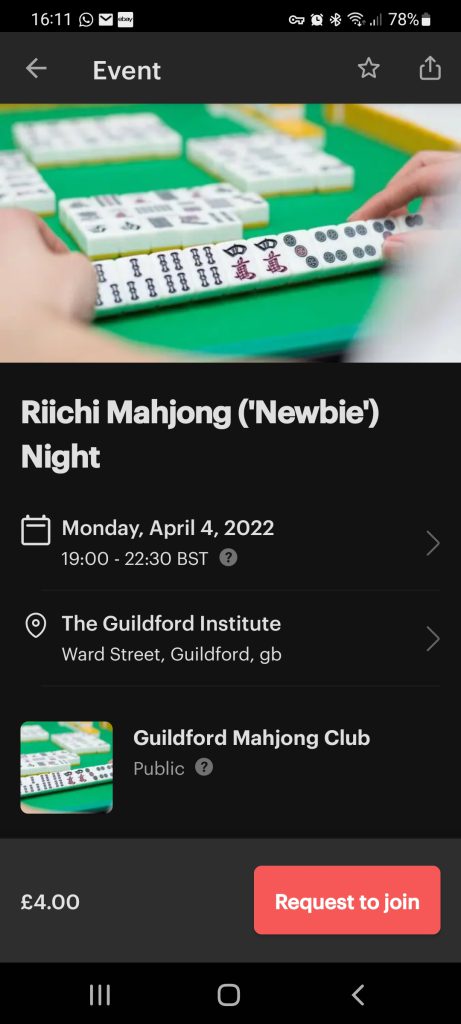 A fee of £4.00 will be collected in-person from each player during the evening to cover the cost of renting the room at the Guildford Institute.
Unregister for an event
If after signing up to an event you can no longer attend please unregister as having accurate numbers allow us to plan the number of table required.
Select the event within Meetup to which you are already subscribed.
2. Press the 'Edit RSVP' link, which will appear in blue at the bottom of the page.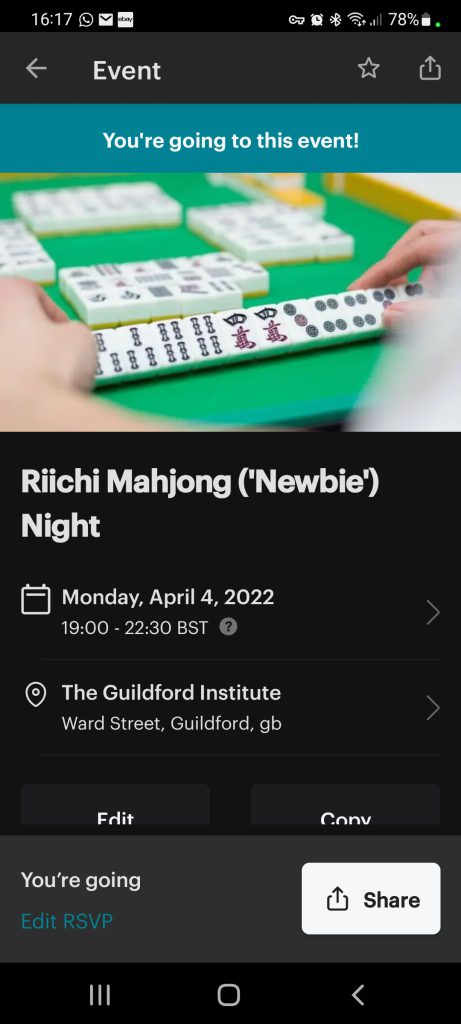 3. Press the 'Not going' button on the next page.